Editorial development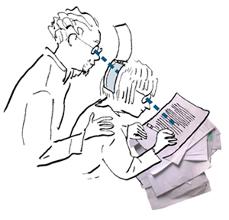 Each book is different from every other and requires a different effort to bring it to fruition.
A good concept, like a good intention, is not enough. If you can't execute your ideas—communicate them through words or pictures—you do not have a viable book. Developmental editing involves reading your work carefully, analyzing the strengths and weaknesses of the writing, highlighting general and specific areas that need attention, and clearly articulating a direction for revision. It is an intimate, strenuous, time-consuming process, a creative dynamic that hones your skills and improves your work, not only the project you are working on but future projects as well.
Evaluations
We offer an editorial evaluation of up to 10,000 words of a single project (fiction or nonfiction), a complete picture-book dummy, or a picture-book manuscript. You will receive a written evaluation, including the annotated manuscript, with our assessment of the viability of the project and a recommendation for how to proceed. We will suggest ways for you to improve the manuscript and move forward with your work. Once you have received and reviewed our written evaluation, if you would like, the editor will answer further questions in a wrap-up discussion of the manuscript with an additional email exchange or in a telephone conversation. Editorial evaluations are available one time per project.
Ongoing Editorial Guidance – The Packet Plan
Some writers prefer ongoing editorial guidance as they proceed with their work. We offer an arrangement where you submit up to 50 pages of work on a monthly or bi-monthly basis." Each packet will receive a complete and thorough editorial review, including extensive marginal annotations, and an editorial letter, assessing your progress and focusing on areas that need further work. This developmental process has proven successful in various MFA programs we have taught in around the country.
Whole Novel Review
We also offer a full editorial review of a complete draft of a novel, including extensive marginal annotations and a comprehensive editorial letter with prioritized and detailed recommendations for revision.
The fees for each of these are outlined in Costs.