Services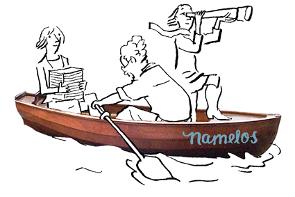 First and foremost, we are a publisher of high quality books for children and young adults.
In addition, we offer editorial services to authors who are looking for expert, reliable support in the development of manuscripts and especially in tackling troublesome issues of plotting, narration, characterization, dialogue and overall conceptualization of fiction or nonfiction projects. We help authors prepare manuscripts for submission to agents and editors, drawing upon decades of editorial and executive experience at major trade publishing houses.
All of us at namelos relish our relationships with authors and respect the privilege we have in sharing the author's struggle to realize their vision. We welcome your inquiries and look forward to working together!
namelos—pronounced na-meh-lohs—is a Middle-German word and means "nameless." It speaks to the anonymous role of an editor in working with an author to bring a work to fruition.